Knowledge has different forms such as scientific papers, raw data, and even images. In most cases, knowledge can only be fully understood if the context is clear. For example, a table with concentrations in a reactor is only useful if the user knows the reactor and the substances used. Often there is no general, formal conceptualization of the knowledge presented. As a result, the data can only be understood in the context of its presentation. An ontology is an explicit specification of a conceptualization. Thus, ontologies are used to represent relationships between concepts and provide a more detailed representation of the relationships between these concepts.
Click here for more information:  
Would you like to learn how to use ontologies?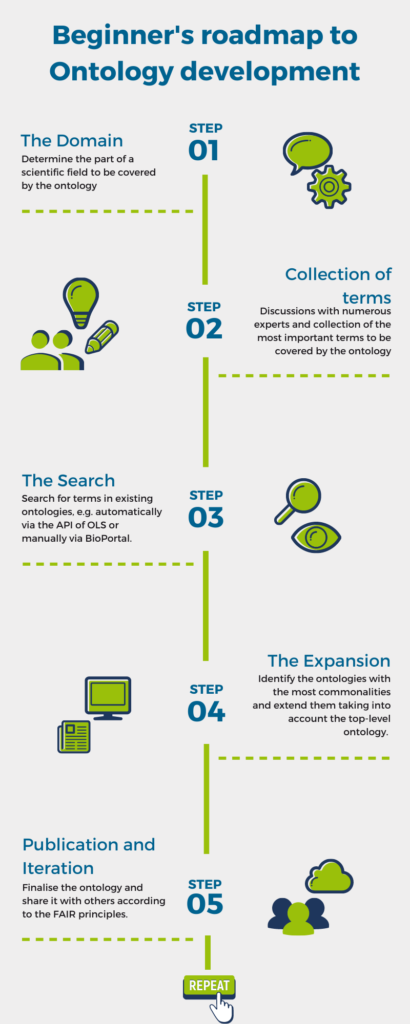 NFDI4Cat provides you a guide with the basic steps to help you get started.
Step 1: The Domain
Define and delimit the domain of interest. This step is necessary to ensure that the ontology is well defined and the boundaries to other domains are clear.
Step 2: The Collection of Terms
Collect the main concepts to describe the defined and delimited domain. Next, sort these concepts in discussions with as many experts as possible. These discussions should also provide insight into the hierarchical structure of the concepts.
Step 3: The Search
Start by searching for existing ontologies for the concepts collected in the previous step. You can do this either manually or via an API on websites like Ontology Lookup Service or BioPortal .
Step 4: The expansion
Have you found an ontology that contains most of the concepts relevant to your domain? Expand this ontology by including the missing terms.
Step 5: Publication and Iteration
Ontology development is a collaborative process. Hence, once you are ready, you should share your ontology with other researchers in accordance with the FAIR principles. Iteration in general and at each step presented is strongly recommended until the ontology is sufficient for your purposes.
Searching the right ontology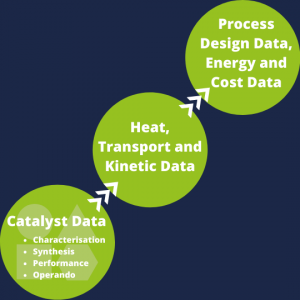 To address the problem of finding the right ontology and to facilitate the process, NFDI4Cat provides an overview of the most important ontologies in the field of catalysis research. The ontologies are grouped according to their position in the digital value chain of catalysis:
Catalysis data (Synthesis, operando, performance, and characterisation data),
Heat, transport, and kinetic data,
Process design, and
Energy and costs data.
The most relevant top-level ontologies are also available.
The ontology collection will be hosted by TIB along with the ontology collections of other NFDIs as of January 2023.
Learn More
Would you like to do more than stay informed?
You can join NFDI4Cat as a member and actively shape the digital future of catalysis!
Contact us