We are looking for a student trainee "Science Communication" (m/f/d) to start as soon as possible (20 h/month).
Would you find it exciting to support the digital transformation in research with your communication skills? Would you like to be part of a large consortium working across disciplines to build a modern research data infrastructure for Germany? Then apply now!
NFDI4Cat has set up a new YouTube channel. You can already watch the first videos, for example the one from the last Physical Sciences colloquium with Dr Nancy Washton.
Or you might be interested in the video from the last TA1 open door meeting, where the current state of the development of ontologies for catalysis data was discussed.
We look forward to seeing the NFDI4Cat YouTube channel grow in the future. Feel free to drop by.
Join us online on Thursday 10.11.22 for the next NFDI physical sciences joint colloquium, featuring Dr. Nancy Washton!
Dr. Nancy Washton, Catalysis Science Group Lead, Physical Sciences Division, Pacific Northwest National Laboratory
Abstract
The last decade has given rise to increased scrutiny on the need for domains in physical sciences to generate robust and reusable data that can be accessed by the broader research community.
Adoption of FAIR principles has allowed research communities that rely on large, shared data sets to approach data equity and thereby advance inclusion and knowledge across the globe as they speed discovery.
However, the entirety of physical sciences has yet to embrace FAIR principles, with specific subdomains at various stages of moving toward full adoption. Chemistry and many of its subdomains lag materials science and physics in mounting a concerted communal effort for adopting processes that allow FAIR data principles and structures to be realized. Barriers to adoption are technical and psychosocial, and the interplay between them.
This presentation will discuss a strategy that addresses both key point: technical and psychosocial. In the absence of a robust conceptual and technical framework that allows researchers to easily record, aggregate and store the various parts of a coherent data set, and an understanding of positive and negative beliefs related to shared data, the goal of FAIR data available in the public domain will not be achieved.
On Tuesday 20 September, a virtual workshop was held with the BDI, the Federation of German Industries, and the NFDI, the National Research Data Infrastructure.
The aim of the workshop was to establish an exchange between industry and the NFDI by identifying and addressing common challenges.
After welcome addresses by Prof. York Sure-Vetter, Director of the National Research Data Infrastructure (NFDI) e.V., Iris Plöger, Member of the Executive Board of the Federation of German Industries (BDI) e.V. and Mario Brandenburg, Parliamentary State Secretary of the Federal Ministry of Education and Research (BMBF), various impulse presentations by individual NFDI were given.
In this format, Dr Andreas Förster, NFDI4Cat spokesperson, explained NFDI4Cat's ambition to develop concepts for cooperation between science and industry in the field of digital catalysis. Thus, NFDI4Cat intends to act as an enabler for the sustainable production of chemicals and energy sources.
Even at this early stage, science and industry in the NFDI4Cat consortium are using and sharing data from various sources within the framework of Open Science and protected workspaces.
NFDI4Cat formulates the following hypotheses based on the current status:
Open Science will fundamentally change research and development in academia and industry
Only if the gap between Open Science and the Digital Economy can be bridged can the full potential of data generated in science be unlocked and used for society as a whole
Collaboration between industry, academia and stakeholders from the different digital domains is needed
According to Förster, the following challenges exist accordingly:
Implementation of Open Science in catalysis research and chemical engineering
Definition and optimisation of interfaces for data exchange between academia and industry
Harmonisation of data standards and platforms
Developing a culture of data sharing between academia and industry
For this reason, NFDI4Cat recommends strengthening the interaction between NFDI and industry and identifying and defining common goals and purposes. In addition, the link between open science and the digital economy should be addressed through funding programmes in which partners from science and industry can participate.
At the ADCR22, we at NFDI4Cat took the opportunity to present our latest results and, more importantly, our goals for the upcoming year. The main focus of the conference, however, was on digital catalysis and research data management, and this event would feature some great presentations on many different topics making it a great innovation hub. We will summarize the most important of them here:
We would like to very sincerely thank our NFDI partners and speakers for their attendance and support!
Dr.-Ing. Felix Engel from TIB
NFDI4Ing was represented by Dr.-Ing. Felix Engel from the TIB Leibniz Information Centre for Technology and Natural Sciences University Library.Felix Engel spoke about the challenges in research data management and presented the TIB Terminology Service, a web-based platform that supports the adoption and standardisation of terminologies.
Dr. Paco Laveille from ETH Zürich
Paco Laveille is the Head of the ETHZ Catalysis Hub (SwissCAT+ East services) in Switzerland. His talk on supporting data-driven automated and high-throughput catalysis R&D was an incredible insight into the future.
Dr. Sutanay Choudhury from the Pacific Northwest National Laboratory
Sutanay Choudhury is a principal investigator and Data Scientist in the Advanced Computing, Mathematics, and Data Division at PNNL. Sutanay presented his efforts on turning data into knowledge using knowledge graphs and provided some very interesting examples on how they can be applied in different scientific disciplines.
Dr. Lukas Jansen from NFDI
Dr Lukas Jansen is a research officer at the NFDI Association. He is responsible for networking with national and international actors in the field of research data management. As an expert in this field, Lukas Jansen gave us an amazing overview of current initiatives such as the European Open Science Cloud (EOSC) and Gaia-X.
Prof. Martin Himly and Dr. Thomas Exner
Enabling on-the-fly and quality-assured (meta)data provision for complex experimental workflows.
In this talk, the two scientists presented their experience gained in the European Union H2020 NanoCommons project. NanoCommon provides an infrastructure for reproducible science that improves data integration and enables nanoinformatics workflows to bridge the gaps. They also introduced the Instance Map Tool, which enables clear visualization of experimental workflows and rapid metadata creation.
Prof. Keisuke Takahashi from the Hokkaido University
Keisuke Takahashi gave an inspiring talk on an emerging field – the field of catalyst informatics. Catalyst informatics combines research data from catalysis research and development as we know it with data science techniques to optimize catalysts development.
Dr. Ansgar Schäfer from BASF SE
Ansgar Schäfer, head of the quantum chemistry group at BASF SE, discussed the importance of reliable data for machine learning and the immense value of sharing it. He emphasized the importance of a suitable infrastructure such as NFDI4Cat.
In late September, it was with great pleasure that we welcomed our partners and visitors to the second NFDI4Cat annual meeting (for the first time as ADCR) at the DECHEMA House in Frankfurt am Main. The meeting was held as a hybrid event with almost 60 people on site and many more online.
In addition, NFDI4Chem, FAIRmat, Daphne4NFDI, NFDI4DataScience and OntoCommons joined the event with an exhibition booth, which was met with great interest among the visitors of the annual meeting. 
We would like to thank our partners and speakers for their visit and support!
NFDI4Chem is an initiative working on building an open and FAIR infrastructure for research data management in chemistry. On site were: Johannes Liermann, Ann-Christin Andres, John Joliffe and Hans-Georg Weinig (DGCh).
The main objective of DAPHNE is to improve the transparency, FAIRness, and re-usability of data measured at photon and neutron facilities for the wider research community beyond the individual group which performs the measurement. On site were: Katja Kornetzky, Carlos Manuel Lobo Silva, und Astrid Schneidewind.
FAIRmat is working on building a FAIR data infrastructure for materials science. We were pleased that, Annette Trunschke und Lucia Alessandra Rotheray were our guests.
The vision of NFDI4DataScience (NFDI4DS) is to support all steps of the complex and interdisciplinary research data lifecycle, including collecting/creating, processing, analyzing, publishing, archiving, and reusing resources in Data Science and Artificial Intelligence.
OntoCommons
Martin Himly, Chair of the EU NanoSafety Cluster WPG-A on Education, Training and Communication and Exner Thomas Chief Scientific Officer (CSO) at Edelweiss Connect presented their work within the OntoCommons project. Ontocommons is a H2020 CSA project dedicated to the standardization of data documentation in all areas of the materials and manufacturing industry.
Wiley-VCH 
A special thanks to Wiley-VCH for sending a group of editors to assist us in our efforts. Many thanks to Kim Meyer (Angewandte Chemie), Francesca Novara (Chemistry-Methods und ChemistryOpen), Sandra Gallardo (ChemCatChem und EurJIC) und Charlotte Gers-Panther (ChemCatChem)!
NFDI4Cat aims to motivate young academics and young professionals from the industry to contribute to research data management in catalysis and all catalysis-related sciences.
The Poster session
Therefore, the ADCR22 offers a space for new and innovative topics to be presented and discussed by means of posters.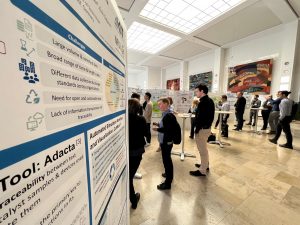 The winners
At the end of an eventful ADCR22 day, this year' poster prizes were awarded. Deviating from the original plan, no third place was awarded, but two second places were awarded due to the enormous quality of the contributions:
The first prize went to:
Alexander S. Behr, Technische Universität Dortmund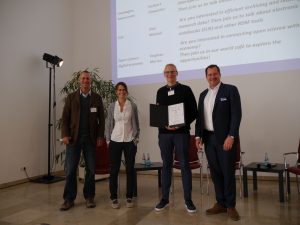 The two second prizes for the second best posters went to:
Mohammad Khatamirad, BasCat – UniCat BASF Joint Lab, Technische Universität Berlin (Mohammad Khatamirad was unfortunately unable to attend – the prize was therefore accepted by Michael Geske (BasCat).
and Johannes Riedel, Hendrik Gossler, Karlsruhe Institute of Technology (KIT)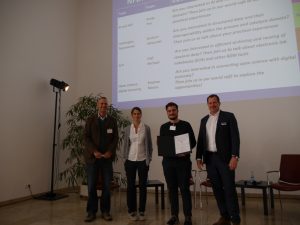 HLRS – High Performance Computing Centre Stuttgart, University of Stuttgart. With her Digital Love Story, she creatively won over the Twitter community.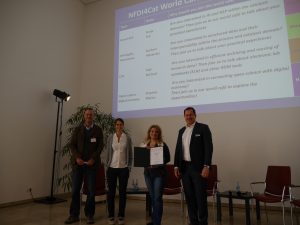 We warmly congratulate all winners and thank all participants for their scientific contribution!